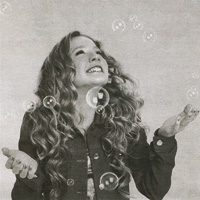 By Kristy Sexton
AN ADADEMIC has blasted as "cultural pedophilia" the inclusion of child pop star Nikki Webster un a magazine's list of sexy women.
The schoolgirl, who turned 16 three weeks ago, was placed No. 96 in men's magazine FHM's 100 sexiest woman poll.
University of the Sunshine Coast senior lecturer in popular culture Karen Brooks said tagging Webster with a "sexy" label was alarming. "In light of what has been happening with the events surrounding the Governor-General, I find it fascinating that there are all of these concerns about paedophilia and here we have a leading magazine in Australia claiming a girl who looks no older than 12 is sexy," Dr Brooks said.
"We are engaging in a type of cultural pedophilia. When we put young girls that look like they are under the age of consent and portray them in a sexual way, that is wrong."
Dr Brooks said the marketing of padded bras and G-strings at girls under 10 and portraying teenagers such as Webster in a sexual way were "all connected".
People who marketed the lingerie at children should have "a good, long, hard look at themselves… The crazy thing is it's the spillover effect and mums wanting a 'mini-me'," she said.
Child development expert Elspeth McInnes urged mothers to monitor their children's clothing choices. She called low-cut T-shirts and bras a "pedophile's paradise."
"The wholw notion of training younger girls to present themselves sexually and to think about their sexual presentation is very, very dangerous," Dr McInnes said.
"We're not going to stop pedophilia by banning sexy lingerie for children but we don't need to train our kids to present for them."
FHM editor John Bastick defended the inclusion of Webster on the list as "a bit of fun".
"Every year the guys vote for very weird things," Mr Bastick said.
"I don't think (Nikki Webster) is sexy, not at all. When she fills out a bit in a year or two, she could be; with a bit of styling and a good bit of marketing, she could be very attractive.
"We wouldn't normally put her in but we had to check her age and she is 16 so that's why she went in.
"It's a bit of fun. That's all it is."
Webster's spokeswoman Lisa Hamilton said Webster was unable to be interviewed "because she's in school and busy with exams."