Still our Olympics princess: Viral video of Nikki Webster's Strawberry Kisses duet on Harbour Bridge shows pop starlet and mother has barely aged!
By Hannah Paine For Daily Mail Australia.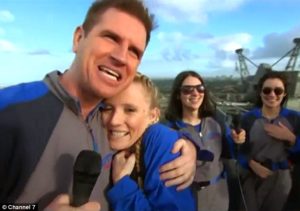 She was the golden haired girl of the opening and closing ceremonies of the 2000 Olympics.
And while her days as a teen pop star might be over, dance studio owner and mother-of-one Nikki Webster, 29, has made a musical comeback of sorts on Monday's episode of Sunrise.
A video of Nikki performing her hit Strawberry Kisses alongside Sunrise weather presenter Sam Mac has gone viral, amassing more than 500,000 views in just 24 hours, showing how the Sydney Games' princess has grown up but barely changed.
In an interview with news.com.au, Sam said he felt inspired by 'divine intervention' to invite Nikki to climb the Harbour Bridge and take part in Bridge Climb Karaoke with him on Monday.
The duo performed Nikki's 2001 hit Strawberry Kisses to the delight of other bridge climbers, with Sam later posting the video on his Facebook page.
The video, which features the weatherman breaking into a rap halfway through and dancing energetically, has since gone viral with many fans insisting it means Nikki needs to make a comeback and she certainly looks fit for the task.
One fan suggested that the blonde pop starlet could see a resurgence of fame like Australian Idol runner up Shannon Noll.
'So now that Nikki Webster is ironically singing Strawberry Kisses again, how long until she's a Nollsy level meme?' the Twitter user speculated.
Others were left annoyed that they couldn't find Nikki's songs on music streaming services.
One frustrated person wrote on Twitter: 'what a joke that apple music doesn't have strawberry kisses by Nikki Webster like what's the POINT.'
'Why is Nikki Webster's discography not on Spotify though?' Another fan wrote on Twitter.
Sam told News Corp Australia he was overwhelmed by the response of the performance from both friends and strangers.
He also revealed big plans for the song and Nikki.
'I want to record a slightly updated 2017 version of Strawberry Kisses (featuring a longer rap sequence and unexplained sax solo) and re-release it with Nikki Webster,' Sam said.
'I am 100 per cent serious about this and it needs to claim it's rightful spot in next year's Hottest 100.'
Nikki rose to fame thanks to her amazing acrobatic and singing skills during the opening and closing ceremonies of the Sydney Olympics.
Less than a year later the 13-year-old launched a pop singing career, with her first single Strawberry Kisses reaching number two on the ARIAs music chart.
Leaving her music career behind in her twenties, Nikki is now the owner of several dance studios and a married mother of one.
Source: dailymail.co.uk