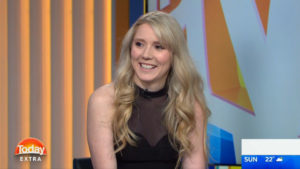 DAVID CAMPBELL: Now, the Olympic Games are well and truly underway. One person who got into the spirit of the opening ceremony over the weekend was one Nikki Webster!
SONIA KRUGER: That's right, Nikki was just thirteen years old when she was hand-picked to headline proceedings at the Sydney games in 2000, and she joins us now. Good morning to you!
NIKKI WEBSTER: Good morning!
DAVID: Hi!
SONIA: Nikki that is one heck of a phone call to get, isn't it?
NIKKI: It was! It was a whole audition process. So the audition came up, I went for it, it was months and months of audition, elimination process. I reckon if the reality TV was around back then, it would've been a reality show. But it was quite cut-throat. It was intense. And then it was a lot of preparation going into the opening ceremony, but for me, not as much as everybody else that was involved. The directors, the producers, everybody that was doing all the different segments had been working on it for years, and then I was lucky enough to get this role and play the Hero Girl, and bring all the sections together and help create the opening ceremony. So, huge honor.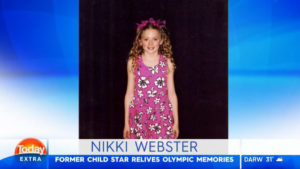 DAVID: Can we get that photo up again? 'Cause it's just adorable. Look at you here. I mean, you're so… look at you there!
NIKKI: Aww, look at me! Look at me with the pink bows! [laughs]
DAVID: On the weekend I read somewhere that you said that this made you grow up really fast, what did you mean by that?
NIKKI: Um, I think it just… What I meant by that was I was kind of thrown into the limelight. Yes I had been in musical theatre and I'd been in the industry, but not to the extent of what the Olympics catapulted me into, around the world, and it's nothing that I was prepared for. There was no child star in Australia that had kind of gone through the same process. So I was learning just as everybody else in my team was learning along the way and on the journey, I had to learn it as well, and I also had to make sure that I was being honest about who I was as a child. 'Cause I was very young and innocent, and you know, that was my upbringing, and very homely, so I wanted to make sure that I stayed the same and didn't get wrapped up in it. So that's what I meant by growing up – not in a bad way, I mean it was fantastic. I got to travel the world, I made music, clothing range, makeup – I got to do everything, every little girl's dream, I got to live out. So it was incredible.
SONIA: You got to meet some amazing people, too, at the Olympics, including your idol, Kylie Minogue.
NIKKI: Kylie, yes.
SONIA: Did she give you any words of wisdom?
NIKKI: She was a huge inspiration to me at that time of the Olympics, we did the bridge climb together, and we had a great connection. So she was really by my side throughout that first couple of years of my career – on the phone, we met at different times, I went and saw her in London get ready for her tour, and just really kind of giving me an open eye to what this industry can be like and where you can take it if you work hard.
SONIA: Yeah, yeah.
DAVID: You've been in showbiz since you were how old?
NIKKI: Well, five and a half, actually, doing Aladdin, a pantomime, and then I did lots of musical theatre and was lucky enough to work alongside you, in Les Mis.
DAVID: We did Les Mis. She was nine.
SONIA: I didn't know you did that together!
NIKKI: I was Little Cosette, and I think I had a big crush on David. [laughs]
DAVID: No!
SONIA: You were only about 41 then, weren't you?
DAVID: I was really young.
NIKKI: Very young. We used to play in the dressing room, we used to play board games, remember? When we had scenes that weren't on. So I've been lucky enough to do some incredible things.
DAVID: Michael Jackson, you worked with Michael Jackson on the HIStory Tour.
NIKKI: I did!
DAVID: What was that, what were you doing on that tour?
NIKKI: So I met him, when he had his movie [premiere], and then we all kinda got trampled on by a lot of fans, and we went back to his hotel room, and then he asked me to come up and sing with him, Heal The World, on stage, and he gave me a jacket of his that says "Especially made for Michael Jackson". So incredible, and I actually got told that he remembered me, by a mutual friend of ours, when he saw me do the Olympics, he remembered meeting me.
SONIA: What was he like? What were your impressions of him?
NIKKI: I absolutely adored him. He was such an honest artist. Of course being kids we asked him to do the moonwalk for us; that's what you do.
DAVID: Did he do it?
NIKKI: No! He actually said, "You'll have to wait until you see me on stage because I'm really shy," as in just in front of people, but get me on stage and that's where I come to life. And I kind of relate to that 'cause I guess I'm a little bit the same. On stage I feel at home, and one-on -one I get a little bit nervous and shy.
DAVID: What about like… People don't know that you actually moved to the States for a while. Why did you do that? Was it just too much here after all that Strawberry Kisses and all of the Olympics and everything?
NIKKI: Yeah, I think it's about growing up. I was 18, I was like, "I need to find out who I am," who Nikki is. There was a lot of management, a lot of people trying to dictate, you know, me doing the sexy thing, me doing – whatever it was, where my next career was gonna be. So I said to mum and dad, "I'm off! I'm going to L.A." And I wrote music for the first time and went to Nashville, spent time in Nashville, which I love, and met incredible people that knew of "Nikki Webster" but didn't have any pre-conceived ideas of me. It was pretty awesome. I grew up very quick and I got very homesick, 'cause I'm an Aussie girl at heart, so I came home pretty quick!
SONIA: And you now have a gorgeous two-year-old daughter, Skylah.
NIKKI: I do, yes.
SONIA: So does she know about mummy's amazing career?
NIKKI: Well she does know Strawberry Kisses, and that's from my dance studios, 'cause the kids do it. So she knows Strawberry Kisses and she can pick me out in pictures. I guess I'm waiting for the right time to sit down with her and show her the Olympics where she can really understand it, and things like that. I mean she's the best thing that's ever happened to me, she's incredible and I enjoy every moment with her.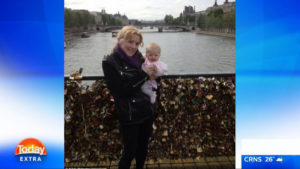 SONIA: Look at how gorgeous that bubba is.
NIKKI: She's cheeky as!
SONIA: Is she? Bit like mummy.
NIKKI: Yeah. Loves the stage.
DAVID: We're just proud of how well you've turned out. I don't mean that as… I am older than you, I've known you since you were nine and I've always admired how well you've handled yourself and you still do, and you're such a great example for people out there that you can get through the industry and be fine.
NIKKI: Yeah! It is a tough industry but it's also an incredible industry. There are so many different avenues you that can take – radio, TV and movies – and I've been lucky enough to do a lot of it, and will continue to. I want to get back into musical theatre and more acting, and also music.
DAVID: It's a shame you've lost your drive.
NIKKI: [laughs] No, I'm very driven!
SONIA: Thank you so much, Nikki.
DAVID: You can check out Nikki's performing arts studios in Sydney, visit dancenikkiwebster.com.au.